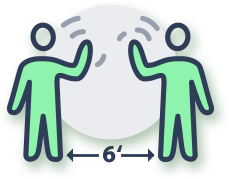 The health and well-being of our community is our absolute top priority. Here are the precautionary measures we are taking as we welcome you back to the center.
What we're doing at Merrimack Plaza to keep you safe:
Site personnel and vendors will be expected to adhere to public health and safety guidelines. Outside vendor procedures will be carefully reviewed.
Cleaning schedule for all common areas have been fully evaluated and an increased schedule has been implemented to meet all mandated guidelines.
Public areas in the center may be temporarily closed to discourage gatherings.
A full evaluation of "sidewalk/open" space continues to be reviewed to ensure public safety is met.
Additional signage has been placed throughout the center to remind customers to maintain social distancing.
Sidewalk queuing and "curbside" delivery plans will continue to be reviewed on a store by store basis to ensure customer access can be maximized while maintaining all fire, traffic and safety protocols.
Operational services previously altered due to the store closing will be slowly brought back on as the center resumes operation.
Please be sure to check back to this website to ensure that you have the most up to date information available.
Current CDC recommendations:
Amid this global health crisis, public health officials from the CDC urges everyone to practice healthy habits.
WASH YOUR HANDS OFTEN – If soap and water are not readily available, use a hand sanitizer that contains at least 60% alcohol. Cover all surfaces of your hands and rub them together until they feel dry.
COVER YOUR MOUTH AND NOSE WITH A CLOTH FACE COVER WHEN AROUND OTHERS – Everyone should wear a cloth face cover when they have to go out in public, for example to the grocery store or to pick up other necessities. Continue to keep about 6 feet between yourself and others. The cloth face cover is not a substitute for social distancing.
COVER COUGHS AND SNEEZES – always cover your mouth and nose with a tissue when you cough or sneeze or use the inside of your elbow. Throw used tissues in the trash. Immediately wash your hands with soap and water for at least 20 seconds. If soap and water are not readily available, clean your hands with a hand sanitizer that contains at least 60% alcohol.
CLEAN AND DISINFECT frequently touched objects and surfaces using a regular household cleaning spray or wipe. If surfaces are dirty, clean them. Use detergent or soap and water prior to disinfection.
We will continue to monitor the data and recommendations from CDC (Centers for Disease Control and Prevention), WHO (World Health Organization) and ICSC (International Council of Shopping Centers), and update our practices as needed.